Ladies News
Ladies SCLGA Morrice Foursomes in review. Read more.......
Vets News
The golfing season is now well underway and the weather has improved. Read my update on the most recent compettion news. Read more.......
ProQuip Pro-Flex Merino Lined Sweater

view other products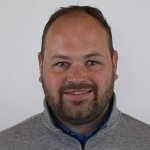 This lined jumper marries attractive styling with high functionality. It's Soft, 100% lined, and the Merino wool combines with ProQuip's pioneering water repellent finish to produce a garment of exceptional quality.
ProQuip's Merino Lined jumper is a standout product in the Pro-Flex range. This zip-necked garment delivers a classic look with a modern edge, together with innovative technologies that provide outstanding protection from the cold, wind and rain. Features and benefits of the ProQuip Merino Lined Jumper include:
100% lined, Merino wool jumper with ProQuip's water repellent finish, available in vivid blue/black, black/vivid blue and storm grey/black
Stylish finish with zip neck and Pro-Flex embroidery on right arm
Sizes S-XXL
High performance in a range of weathers - cold, wind and rain
Easy to look after - machine washable and tumble drier friendly. Ironing the garment improves its water repellency