Kids Fun Golf is all fun and games.
A number of team activities are played and are designed to give children, aged 5-10 an easy introduction to golf. Plastic clubs and balls can be used, safety zones and a point system that encourages all to have fun.The coaching is kept simple making it perfect for large or small groups of children and is a great way to Get into Golf.
Run by PGA Coaches and volunteers at a GolfMark accredited golf club.
Kids Fun Golf Days 2016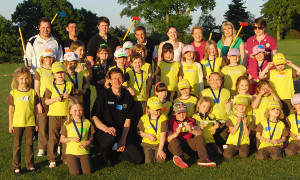 Kids Fun Golf Days are held during school holidays at Cottesmore Golf Club and children from Horsham, Crawley and the surrounding area in West Sussex are welcome to enrol.
The next planned dates are:
Thu 4 Aug
Thu 18 Aug
Thu 25 Aug
Thu 27 Oct
Please click here to register your interest.