Cottesmore currently has three golf coaches available for individual, group and junior golf lessons. All three have their own individual style although their teaching could be described as "orthodox," sticking to the proven fundamentals of golf – quite refreshing given the plethora of quirky teaching methods around today. Part of the appeal is the fact that the coaches are regular golfers and competitors themselves and have experienced all the highs and lows we all have on the golf course.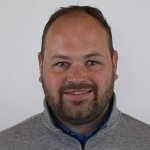 Stephen Grouwstra - PGA Professional & Director of Golf
Steve has been at Cottesmore since moving from Hull in 2010 and has progressed from Assistant to Director of Golf. He has achieved PGA Level 2 Coach and is available for private one-to-one lessons and group classes. He believes everyone is individual and he teaches as such. Steve learnt his golf at Sutton Park Golf Club, where he became the youngest ever winner of the Club Championship as well as holding the course record.
---